Patient Booking
The time of medical personnel is precious. Why waste time on the phone when your visitors can book appointments online through your own Amnexis app? This shifts the majority of the appointment scheduling work to the patients, alleviating the burden on your practice team.

Document Exchange
DateMate enables patients to share treatment-related documents with facilities, whether they are in PDF, image or text file format. The data is stored securely in a GDPR-compliant cloud, ensuring constant availability. In the case of networking with DateMate (e.g. within a hospital), documents can also be conveniently shared between different facilities.

Info Portal
With the information portal you turn the booking app into your very own individual internet presence. Design articles about your area of expertise to provide patients with further information. Use videos, images and texts to create articles, workshops and online tutorials.

Dashboard
The dashboard and calendar views are your most important tools. Here you can see today's appointments at a glance and easily access patient information. Or create new appointments or modify existing ones. You can do everything with just a few clicks for optimal workload reduction.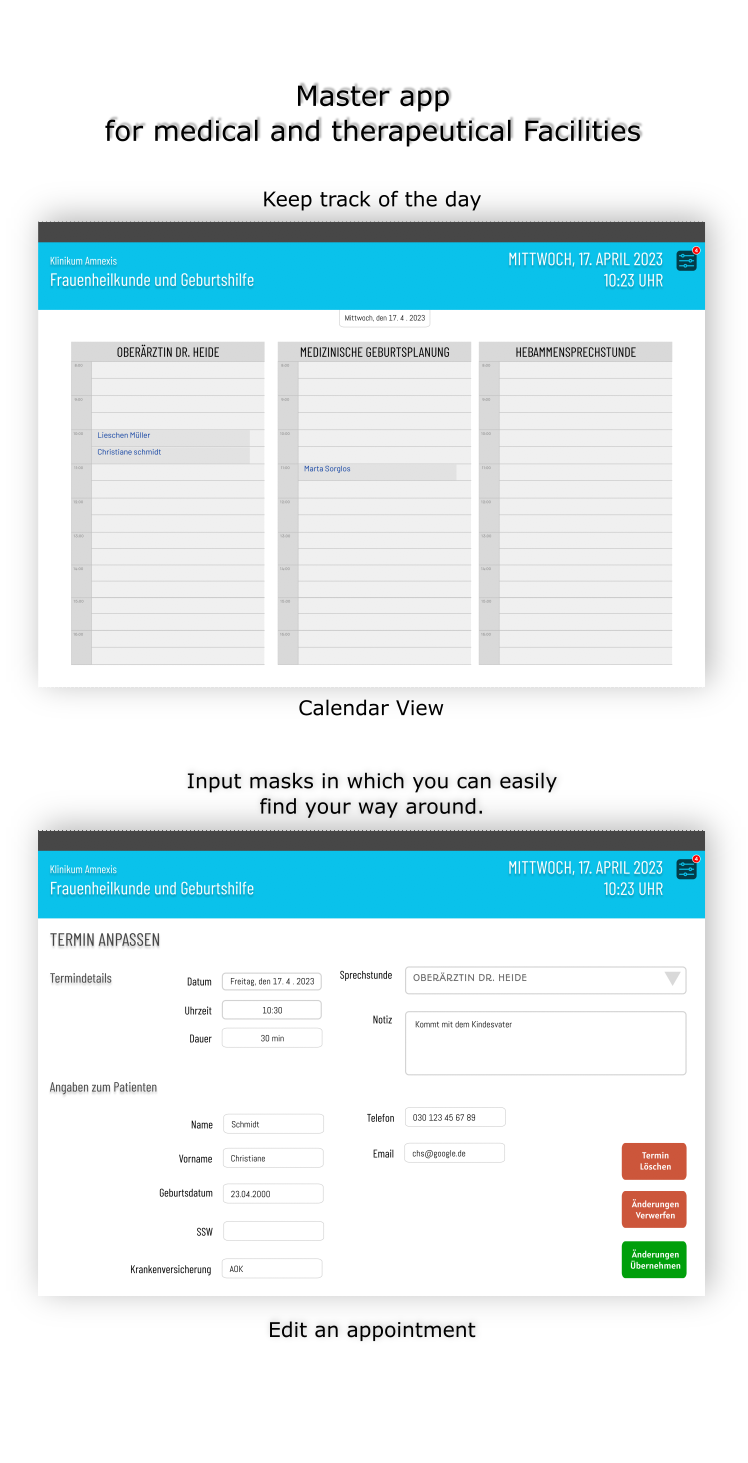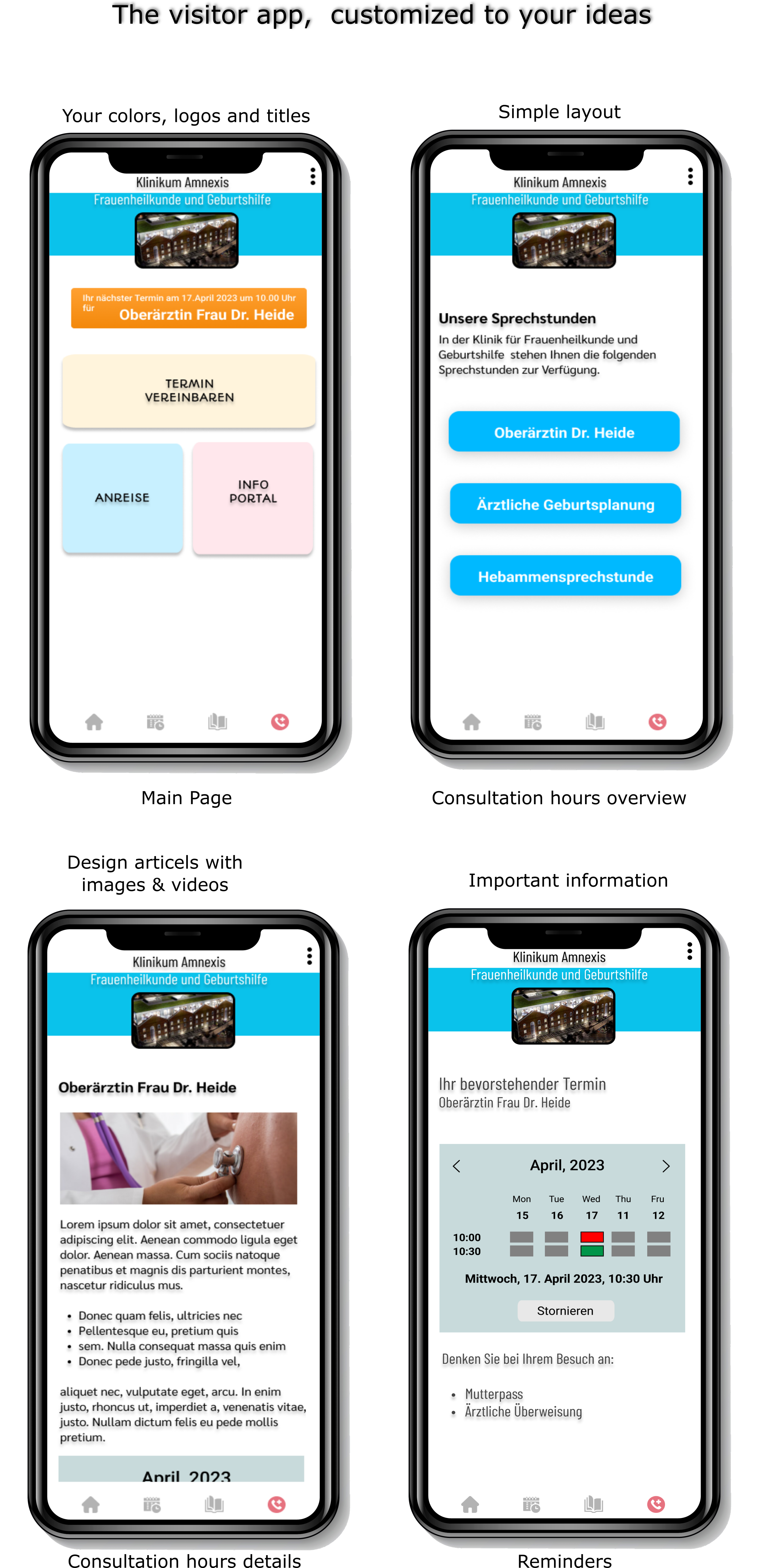 DateMate –

Appointment booking system

 and

patient app

for medical and therapeutic facilities
It is still common practice in medical and therapeutic facilities for healthcare workers to manually schedule and manage appointments using paper-based systems, even though their time could be better spent on treatments. A similar burden results from the traditional method of coordinating appointments by phone, taking appointment requests from patients and notifying them of changes.
Burden on employees due to administrative tasks

Burden on staff due to spontaneous calls from a patient

Burden on employees due to callbacks, in the event of changes
DateMate by Amnexis removes these grievances to best relieve the burden on staff. DateMate is a digital booking system, for treatment communities or facilities with multiple/many consultations and their patients, such as group practices, maternity clinics, radiology centers, health clinics, medical centers but also individual practices.
With the patient app, your guests can independently schedule appointments or obtain detailed information about the facility or department through the integrated information portal*. This transforms the visitor app into a personalized website for institutions.
BENEFITS:

Resource gain

 

Your employees have more time for the patients, because most steps of the appointment management run automatically.
A tidy workplace

 

Without paper calendars, your workplace is clearer and your daily structure even tidier. This frees up your head and hands.
Best communication

 

If you change appointments, your patients will be informed immediately via the app. An additional phone call is not necessary.
Fewer questions through well-informed patients

 

With the information portal, patients can be provided with important and supplementary information from your area of expertise. This makes it easier to answer some questions and free up further time.
A lasting impression

 

Patients can easily find their way around the patient app's sleek and clear design and get a professional impression of your facility.
FEATURES:
MASTER APP
DateMate consists of an (master) application for the med. / therap. / therapeut. Facilities, with which all consultation hours, events and courses can be arranged according to the exact specifications. The different calendar views (fig. left) offer you all possibilities to display bookings at the reception or in the treatment room or to make or adjust them yourself. DateMate can also be connected to your HIS* to transfer patient master data directly or to open patient files at lightning speed.
Creation and administration of all consultation hours, therapy offers and courses of a facility.

Deposit of important accompanying information for each consultation hour.

Manually enter, change and delete appointments.

Automatic patient notification via app or email.

Calendar view for different use cases.

Creation of articles for the information portal* (texts, images, videos, instructions, workshops).

HIS connection.

Document exchange with patients and other institutions.

DSGVO compliant storage of all data in the cloud.

Linking of several facilities to a network (e.g. medical center).

Access via web browser.

Printing of schedules or lists of participants.
PATIENT APP
The patient app can be conveniently installed through the app stores and offers patients, among other things, an overview and detailed information about office hours/appointments, with the ability to register for available slots. With the app, patients always stay informed about their appointments and are instantly notified of any changes.
Overview of available consulting hours incl. description and notes.

Direct booking of appointments for free consulting hours.

Notification of changes.

Document exchange and communication with the facility*.

The info portal provides insight into technical articles, instructions, brochures and video contributions of your facility*.

Telephone function for quick dialing of facility numbers.
Let's Talk
__

Interested in improving your processes and making life easier for your staff ?
Send us a message and we will be in touch.