Online Booking
SEESAM Pass enables you to find the right test centre and book your test online, but also to book with your credentials your access ticket at connected venues.

Health Pass
The Health Passport feature enables users to receive and display their medical results such as Vaccinations, PCR, Rapid Antigen, other tests as well as locator forms pushed by the SEESAM health screens application. These results can be stored and displayed by the user wherever required whilst traveling.

Status Sharing
Through our BLE technology you are able to share your status with others, show your status and receive theirs. This gives social and business meetings a much needed safety and transparency and allows society to go back to normality.

Medical Wallet
SEESAM Pass is your personal wallet to store and display all your test and vaccination results and any other travel documents such as 'Locator Forms'. Anytime, you will be able to know and share your status through SEESAM Pass.
Know Your Status – 

Share Your Status !
Get your own access management system, bring people safely back into work, schools & universities, public life etc. We will get you your own dashboard to manage access requirements and to administer the input of vaccination and test results. You will also be able to create reports in realtime, giving you full real time overview over your visitors/Clients/Employees.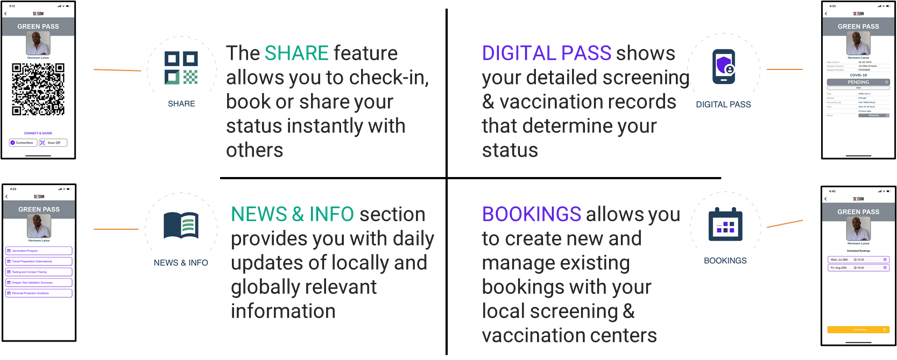 Let's Talk
__

Interested in improving your processes and making life easier for your staff ?
Send us a message and we will be in touch.